Engineered, produced, processed and mastered by Eric Bergman,
with invaluable input from A. Jeffrey Alfaro.

Graphic design and liner notes by Eric Bergman.
Photo of the original Patron Saints in 1967 by Jean Lombardi.
Original Patron Saint drumhead design by Jonny Wild.
This CD set is lovingly dedicated to Jon-Face, without whom...

A special mention must be made of the Patron Saints Auxiliary, the team of friends and family
who hung out with us throughout the early days; Tom Bergman, Linda Pankuch, Tara Head, Shirley Lanners, Peter Wolman, Charlie Wilhelm, Jonny Wild, Linnie Beauchamp, Gesi, the Miller family, Casey Aspray, Marita O'Brien, Cynthia Tuttle Edwards, Chris Kubie, Jim Dance, et al, were instrumental, as it were, in enabling us to grow and improve. Thanks also to my wife, Cindy,
Billy Owens, Ward Bennett and Don Kratzke for their love and support,
and to Nemo Bidstrup, Mike Albertini, Ned Raggett, Mike Dugo, and Stu Shea
for helping to keep the Patron Saint name and spirit alive.

To learn more about this album and The Patron Saints
please visit us on the web at www.maxmulti.com.

Copyright/produced 2008; all rights reserved, Maxfield Multimedia/Patron Saint Records.
Printed in the U.S.A.
* * * * *
...and as a special Patron Saints website-only 'treat', the original traycard
proposed for the back of the' Before Bohob, Vol. 1 CD set, shown below.
Since there was no way I could get all of the legal permissions required to use the
LP images shown on it, I opted for the 'safe' route, and used Jeff's drums instead.
However, if you click here, you can get a suitable-for-printing PDF of the
original CD traycard; print it, trim it, fold it and replace the 'production' version!
Since I'm not selling it, but just giving it away, there shouldn't be any legal problems...
FYI, The albums shown in the photo are the actual LPs from my own collection
that I used as a kid to learn my parts for all of the songs on the CD set.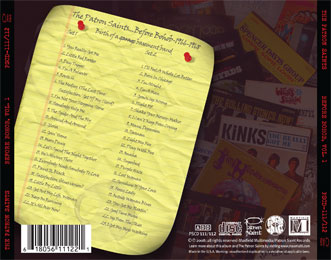 * * * * *
Special thanks to Meryd Yannaccone of Oasis CD for her tireless help with this project.