The front cover of the Garrison Anthology CD.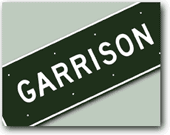 The back cover of the Garrison Anthology CD, and inside tray card graphic.


main page | the songs | the reviews
Here are the liner notes and graphics for the Garrison Anthology 2-CD set, released in 2001. You can check out the songs here.
It's the summer of 1975. My first band, The Patron Saints, had broken up a few years earlier, after recording Fohhoh Bohob in 1969 and its follow-up The Latimer Sessions in 1971. Former Patron Saint Joe Ivins had just moved back to New York, and he and I were anxious to re-group. I happened to run into old friend Jim Behnke, a formidable guitarist and very capable keyboardist, who was looking to start something serious as well. On New Years Day, 1976, Joe lured us up to Garrison, NY, just across the Hudson River from West Point. Joe, his family, and good friend Don Kratzke had rented a great house (once used by Barbra Streisand while filming Hello Dolly) in the center of town. It had a suitably large basement for practicing and willing tenants, and cost us next to nothing; what else could you ask for?

We needed a fourth member to round out the group, so we put an ad in a local newspaper. We got a number of responses, but one really stood out. Dan Brown, not only played bass and guitar, but was a singer/songwriter as well, effectively doubling our creative output. So, sometime in the early months of 1976, after naming the band after the town we had adopted as our own, the final piece was now in place; or so we thought. Jim had to quit unexpectedly, so we were soon once again down to three looking for a fourth. We felt that we well taken care of in the guitar/bass department, so enter Chris Suchmann, the then 17-year-old keyboard wizard who became the newest member of Garrison.

When the recording bug bit again, we converted our practice area into a recording studio and laid down nine original tracks. We decided that we didn't have enough money to actually put out an album, so we settled on a 45 RPM single instead: You Opened My Eyes b/w It's In De Blood. Although the single received a fair amount of local airplay (it was also popular in Texas and Australia, of all places!), Garrison as we knew it then broke up in 1977. I took this opportunity to record my solo album, Modern Phonography, which contained three of the tracks we had recorded for our aborted Garrison project. CD One of this compilation contains a wide assortment of music from the early period in Garrison's history, 1976-1978.

After a shot at resurrecting the original band, Dan and I decided to reform the group with new personnel. In January 1979, a friend turned us on to guitarist extraordinaire Roy Ellingsen, late of MCA recording artists Jericho, who happened to be between groups at the time. And, as luck and fate would have it, Dan's brother James knew an incredible drummer: we played one song with Kevin Brennan, and that was it. A new Garrison, with a harder-edged, more contemporary sound, was born.

To defray the costs of producing Modern Phonography, I decided to sell some of the recording gear I no longer needed. Ward Bennett, a top NYC audio engineer, answered my ad. He and I hit it off right away; he was very interested in my recording projects and was buying my gear for the studio he was about to set up in his house. As he acquired equipment, he tested it by recording demos with the reunited Garrison as his subjects. CD Two contains these tracks, as well as a number of live cuts and demo tracks from 1979.

Despite a fair amount of radio airplay and promotion, a rising fan base and music industry interest, Garrison wasn't to be. As so often happens when groups are on the verge of breaking through, we self-destructed. We played our last live gig at the end of January 1980. When I recorded 1982's Sending Out Signals in Ward's studio, I was lucky enough to have Kevin, Roy and Dan play on it with me, making it, in many ways, a Garrison album.

Since my solo albums contain a number of definitive Garrison performances, I've designed this collection to showcase Dan's songs, as well as compositions by other members of the various incarnations of the group. It gives me great satisfaction to know that this music is finally available, albeit a quarter of a century past when it should have been.
Eric Bergman,
May, 2001 (above liner notes taken from "Garrison Anthology")
Production, engineering (except for tracks 1,2 and 3 on CD Two, which were engineered by Ward Bennett and for all live tracks, which were engineered by Don Kratzke), mixing, graphic design and disc mastering by Eric Bergman. ' Tracks 1-8 on CD One were recorded at Hot Rock Studios, Garrison, NY. Tracks 1, 2 and 3 on CD Two were recorded at Ward Bennett Sound, Thornwood, NY., and tracks 6, 8, 9, 11, 13 and 14 were recorded at Mofo's.' Photography by Don Kratzke, Bill Owens, Eric Bergman and P. Lynn Radok. ' Special thanks to Mike Albertini, Don Kratzke, Jim Brown, P. Lynn Radok, Joan, Carol Rice, Ken, Bill and Sue Ivins, Geoff Webb, Missy, Ward and Sharon Bennett, Carla(Mofo), April Newswander, Heather Dawn, Ingrid, Dick Piersall, Ginny and family, Bruce Pollock, Roberta Synal, Tom Bergman, John Doerschuk, Jackie Haigney, Kirk Foster, Dr. Tinzer, Rich and Laura Lynch, Jerry and bumpskey.com, and Garrison fans and friends—past, present and future! ' For more on the history of this recording, Garrison and other related works, please visit Maxfield Multimedia's website at www. maxmulti.com.
Garrison Anthology CD booklet graphics.


prada luna carbon tods shoes outlet platform prada loafers silicone pregnancy belly orange prada shirt blueprint paperweight italian restaurant rosemont il lebron instagram followers used prada shoes prada luxottica gratis followers instagram grow followers instagram prada frank ocean instagram followers 300 instagram non followers gucvi zhou feng chen pin board large ship captain uniform ember fine jewelry innovative print solutions prada baguette bags dep gucci prada men's briefcase yellow prada shirt premium stores download instagram followers jack spade fulton elvis and lisa marie singing in the ghetto bill gates chatgpt chatgpt api pricing prada ostrich bag prada blue bags prada socks men beyond the door 1974 full movie prada menswear prada brique prada fairy prada rhinestone inactive instagram followers prada 08ys sunglasses chatgpt alternative reddit chatgpt apis tamagotchi pet block instagram followers gucci com prada opticals salesforce chatgpt colored cork boards dan 5.0 chatgpt prada backpack pink gucci fendi prada printing concepts inc cahier prada bag prada mask ugg mini blakely suede bootie boat captains hat uses for chatgpt sheets of cork board excel chatgpt prada bags original velcro board 200 instagram followers prada hawaiian shirt pleasant holidays aaa prada clearance chatgpt articles glasses prada women's prada brown bags prada women glasses prada sports bra leona alchemy stars get followers instagram best prada perfume meundies boxer cork board on wheels prada cloudbust shoes snowpatrol light up chatgpt vs jasper instagram followers meaning prada dog clothes chatgpt and bing rosemont il dining pennsylvania prevailing wage frequently asked questions prada loafers monolith nike shoes outlet online chatgpt app中文 raggiera pleated dress prada baguette bags prada key wallet instagram get followers roofing supply st louis mo prada cleo dupe prada thunder sneakers prada show gucci shop online prada shop chatgpt jailbreak prompt outlet mall online men's prada trainers prada black tie digital offset press green prada dress chatgpt 购买 prada brown boot siding proposal sample outlets reebok chatgpt api github chatgpt woke rambutan pit
main page | the songs | the reviews