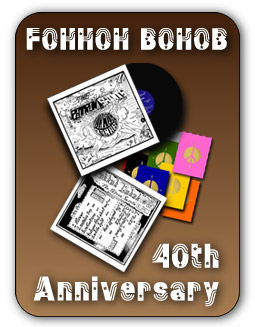 Maxfield Multimedia is the cyber-home for the musical offerings of the Patron Saints, Garrison, Eric Bergman (who is, in fact, your host on this little virtual journey), and Patron Saint Records, the parent record label for all of the above artists and their releases.
For those of you here to find out about the Patron Saints' classic 1969 album Fohhoh Bohob, you've come to the right place! You'll find out about the history of the group, the making of the album, what the chances are of finding one of the original 100 copies pressed (pretty slim, and now collector catalog-valued at $2,000-3,400 US), and where you can pick up our new 2006 Deluxe Fohhoh Bohob reissues; the LP version is an authentic, exact reissue with a bonus 7-inch single containing two additional previously unreleased songs, Shine On Heart and Do It Together from the original session master tapes. If you've purchased one of the various bootleg versions of the album, which were lifted straight from pretty scratchy copies of the original (flattering but illegal), you're in for a sonic treat when you hear our reissue. For you digital aficionados, a Deluxe CD version of Bohob is being released which contains an additional seven previously unreleased tracks: Shine On Heart, Do It Together, a live concert version of Do You Think About Me?, Nostalgia Trip-1975 and Reflections On A Warm Day-1975, Do You Think About Me? (original demo) and The Goodnight Song (original mix).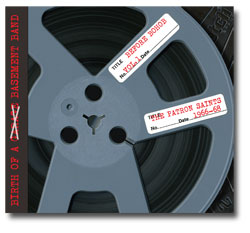 After years of prodding by fans and reviewers, The Patron Saints have released a 2-CD, 45-song set of cover tunes recorded from September, 1966 to late spring/early summer 1968, entitled Before Bohob, Vol. 1 (subtitled Birth Of A Garage Basement Band).
Believe it or not, the Patron Saints also released a NEW studio CD in 2006 with a bunch of new songs (and some re-recordings of some old favorites), called Time and Place. This December, 2005 release contains songs by me (and one by original Patron Saint and Fohhoh Bohob co-writer, Jon Tuttle), with members spanning the history of the Saints: Eric Bergman (original member), John Doerschuk and Kirk Foster (from the Latimer Sessions period), Jeff Alfaro (original PS drummer BEFORE Paul D'Alton on Bohob), and Roy Ellingsen (guitarist from the group Garrison, which was basically a re-named Patron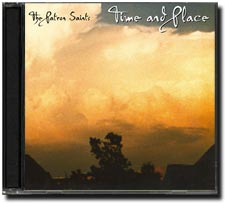 Saints,1978-1980), so it truly is a real Patron Saints album.
You can also find out about other musical releases by the Patron Saints, including Proto Bohob (1999), a collection of Bohob demos from early 1969, and The Latimer Sessions, a 2-CD set (2000) which was the "sequel" to Fohhoh Bohob, recorded in 1971.
If you're here to learn more about the band Garrison, it's all here: the history, information about our 1977 single release You Opened My Eyes b/w It's In De Blood, sound bites, plenty of photos and a video clip or two. The Garrison Anthology 2-CD set (2001), as well as my two solo album releases, Modern Phonography (1978) and Sending Out Signals (1982), now available on CD, is also covered in detail.